Maybe you remember the barefoot running boom. Maybe you've just had a slew of injuries and you need something new. Or maybe your friend has been going on and on with their Altra running shoe reviews.
And now you're ready to find out why this brand has become so popular?
I first pulled on a pair of Altra running shoes when they came on the market in 2009. YIKES, I've been writing and testing gear a really long time!
That first run wasn't love for me, but it was for many of my friends who continued running in them the last decade. However, they have changed over time and now I've got some new thoughts.
Altra Running Shoe Review
There are a number of different zero drop running brands, but in general I've really found Altra shoes to be at the top of the game and that's why I've focused more on them in this review.
ALTER + ULTRArunning = Altra.
The name came to be from a crazy path of a young marathon runner named Golden. He started altering regular shoes to create a zero drop with cushion…it slowly became a bit of a black market thing.
People would literally buy a shoe from the running store owned by his family and then ask him to rip it up and remake it as zero drop footwear!
Suddenly, he realized they were doing this for nearly a 1,000 people. Maybe making a shoe would just be easier.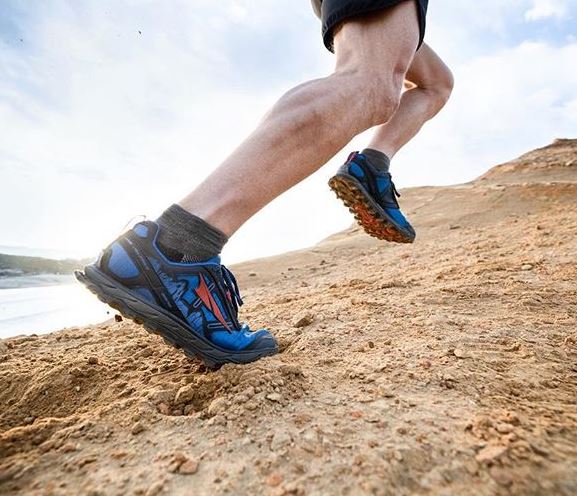 And yes all of this happened before the barefoot craze that was popularized by Born To Run and one of my running idols Scott Jurek.
What's the big deal about this shoe compared to things like Vibrams?
"this shoe delivers many of the benefits of barefoot running with the comfort, cushioning and support that distance runners love."
This was the predominate shoe used by Ultramarathon runners (until Hoka One One came on the scene, now it's split), which makes me think it's got to be great for those of us doing the measly little marathon in comparison right??
What Makes Altra Running Shoes Different?
They have three key features that set them apart from other brands.
Zero drop
Wide toe box
Gender specific
Reminder it is NOT a minimal shoe. Minimal shoes have no cushion and are designed for your foot to really feel the ground, they are mostly protection.
Why You want a Foot Shaped Toebox?

This may sound a little odd when you first hear that they make a foot shaped shoe, but once you see it things begin to click. I don't know about you, but my toes aren't shaped like the image on the left.
This design allows your toes to spread out, which provides you with the ability to get more power from each stride.
Additionally, we know that having our toes squeezed in can be not only uncomfortable, but extremely problematic for things like running with bunions or runner's toe.
Why We Need Gender Specific Running Shoes?

Having been inside places like the New Balance technology area, I know that MOST company's makes a male and female last to produce each shoe model. (A last is the mold that is used to form shoes.)
But Altra has taken it even further with their last, making changes that truly account for the differences in a woman's foot:
Narrower heal
Longer arch
Different upper for our foot shape — ever notice how women often get pain on the top of our foot and then need to do some fancy trickery with our laces to relieve pressure?? Yup it's because shoes aren't made for that.
Note the above pictures are not to discredit any brand, but to help provide an example of how these are different.
5 Best Altra Running Shoes
Since I've been running in the low profile Saucony Kinvara for almost 10 years, I'm already a super fan of low profile shoes.
Barefoot running didn't work for me because I felt without any cushion my feet simply hurt or my joints didn't feel right.
So Altra is that nice middle ground of both!
I tested out a few different Altras on short runs and the first thing I noticed was that I didn't have any calf soreness which often occurs when people transition to a more minimal shoe.
Cushioned Stability Shoe
Altra Provision
See current colors and prices >>
**Note I'm seeing older models marked way down and personally I'd take that savings!

We know I'm not a big stability shoe person and yet these don't feel like a stability shoe at all. I think it's because they have a good amount of cushion and aren't stiff.
10.1 oz. Men's / 8.3 oz. Women's
Zero drop model
Highly cushioned with more of a maximal shoe style
Designed for the road, but the outsole would do great providing grip on basic trails
Available now for $140
I've taken these out for quite a few miles now and surprised myself by finding my calves didn't scream. I think a good sign that I've been rotating through a large variety of heel stacks.
This is one that I'd recommend if you've been considering a stability shoe, but aren't going to let up on all the hip, glue and core work that will make sure you aren't relying on the shoe.

Minimal Neutral Shoe
Altra Escalante
See current styles and prices >>

I have friends like ultra runner Jenny who swear by this particular model. While others have said it feels too minimal for them, that's what a lot of you love.
"I've been wearing them exclusively for 5+ years now and they are so comfortable. The foot shaped toe box is probably my favorite part. It means that your toes get to splay naturally in the shoe almost like you are barefoot.
The zero drop did take a little bit to get used to when I first started wearing Altras but now I can't imagine wearing anything else."
8.5 oz. Men's / 6.9 oz. Women's
Super lightweight zero drop model
More minimal style for ground feel
Also comes in a racer style that's even more minimal
Great for recovery runs
Available now for $130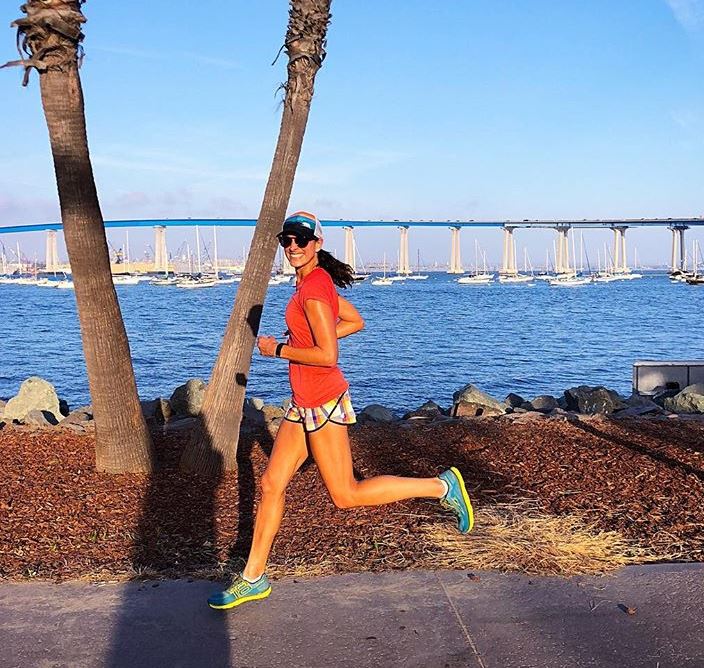 Trail Running Shoe
Altra Lone Peak
See current colors and pricing >>

This is one of the shoes I hear about frequently from Boulder trail runners. While a little heavier than some models, that's largely due to the sole outsole providing the traction and grip we all so desperately want on the trails.
11 oz. Men's / 9.2 oz. Women's
Zero drop model
Minimal to moderate cushion
Canted lugs for tons of grip and a good stone guard for technical terrain
Available now for $130
This is one of the few models they've made it up to version 5, which says a lot. It means runners are repeatedly asking for the shoe and love it (otherwise they stop making it!).
Somehow the shoe manages to be breathable and quick drying, while still having the structure you need for the trails and the sturdiness provided from the outsole and rock plate to keep your feet happy on more technical trails.
Note if you opt for an older version of Altra trail shoes they may not be as breathable based on previous runner reports.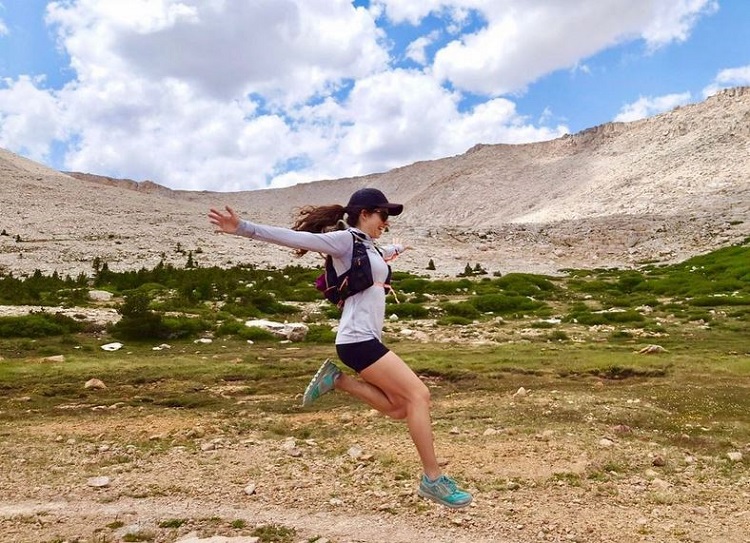 Ultra runner Camilla taking the Lone Peak on adventures.
Everyday Running Shoe
Altra Torin
See current colors and prices >>

Technically the Altra Paradigm designed with Kara Goucher is their max cushion shoe at 30mm stack height, but it's also a stability model. And I wanted to make sure to give you another neutral shoe for long runs.
I've got an order in to test out this shoe soon, so I can give you more personal feedback on how it compares to other models. I do enjoy a good cushion, so I'm pretty stoked.
9 oz. Men's / 7.3 oz. Women's
Zero drop model
28mm stack height
Not so plush you lose yourself, but a truly comfortable ride
Great grip on the outsole again for roads or easy trails
Available now for $150
I've noticed that all the Altra's now come in pretty great color ways. And I like the gradient on the midsole which often makes it not look as big and bulky as the huge white of some Hoka's.
Hiking and Walking Shoe
Altra Olympus
See current colors and pricing >>
Once you decide you like Zero drop shoes, you're going to want them for everything you do. And it's important NOT TO WALK in your running shoes.
Weird, I know. But if you're taking long walks that's actually a different stride and wear pattern than running. So get yourself walking shoes. Look at me giving you reasons to buy more shoes.
11.6 oz. Men's / 9.6 oz. Women's
Zero drop model
33mm stack height
Not so plush you lose yourself, but a truly comfortable ride
Outsole that will work through the wet and dry of your trail time
Available now for $170
Jacqueline says: "The 3.0's were my fav trail shoe ever!!! But these are even lighter & grippy'er than the previous model. I didn't have to break them in at all. Walked right on the Appalachian Trail for an 8.5 mile section hike & my feet and knees felt great! "
Could you run in this shoe? Of course, but it's heavier and not as nimble as the Lone Peak.
The higher stack and wider base make for a more natural stability in the shoe. Same idea as the maximal design of Hoka. I've seen a number of folks comment on how nice that is in a cushioned shoe on a long day.
Looking for more running shoe reviews? We've got them on our running gear reviews page!
This is one of the keys to running shoes for me, there are a lot of great options out there, but we all have something that feels slightly better for us and you've got to test to figure it out!
Have you ever tried these shoes?
What do you think of all the talk about shoes changing our natural stride?

Other ways to connect with Amanda
Instagram Daily Fun: RunToTheFinish
Facebook Community Chatter: RunToTheFinish
Get more running tips: Pinterest