Most reviews around here are focused on the ladies because that's the gear I test. BUT my husband is now running 5 days a week and needed some men's running pants for winter.
That lead me down a wormhole of research and his legs got to start testing out some new gear! This post will be updated as more runs are had in different pants.
I also asked a number of male running friends in Canada what they do when finally hitting the point where shorts won't cut it!
Men's Running Pants
Some of you may fall in the same category as my husband…he doesn't love tights. He'll wear them, but would prefer things just be a little looser.
Thus I consider these closer to pants than tights.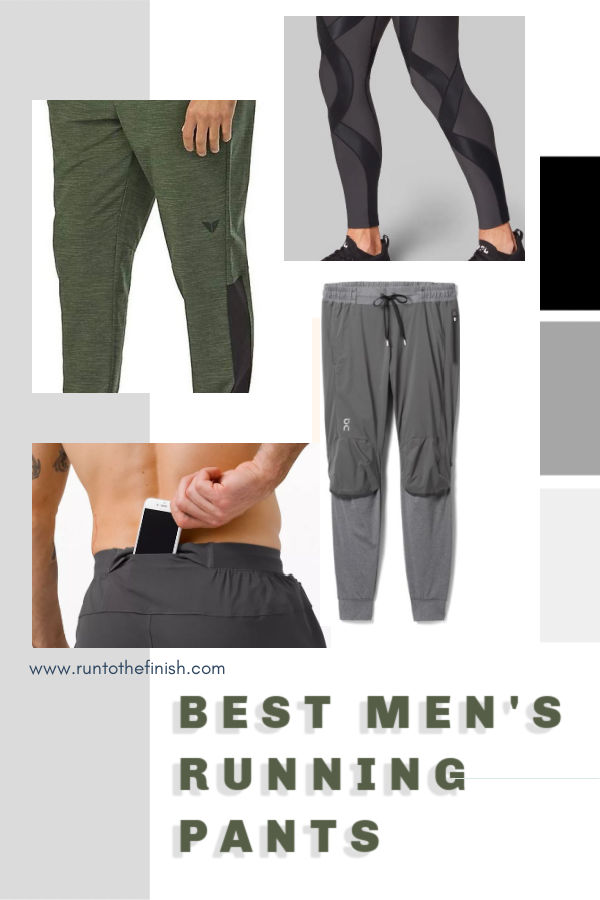 On Running Pants ($170)
These are on the higher end of gear, but as someone who runs in their jackets I can attest to the quality and durability of their gear. These are pants he will get a lot of use from not just for one running season, but many.
Love the windproof panels (that's half of staying warm on some runs)
Looser fit
Long enough on him at 5'10"
Has pockets, but have not tested with phone
So far these are David's favorites. He likes that they aren't super tight and they feel plenty warm for most runs.
Rockay Men's Tights ($85)
So far David likes the fit of these and is extremely happy to have a phone pocket so he doesn't have also wear something to hold it. The pants are described as ready for the tundra, so I thought they might be fleece lined, but are not. So based on the thin material we'll have to get back to you on just how cold they really provide warmth for.
Traditional Tights
Phone pocket with zipper
Zippered at ankles
Anti-odor (an awesome feature)
Bonus! Rockay really cares about the environment too and removes 38 bottles from the ocean for every pair purchased.
Lululemon Surge Hybrid Pant ($128)
I was honestly a little surprised by how many votes Lulu got! I don't know why, I think it's that most of the runners I know wearing it are ladies. BUT NOPE lots of recommendations for the Surge.
I really like that there are length options with the hybrid and jogger
Great running pants for taller men
Back pocket for phone
Jogger style pant
Good for cool days, but not the super cold winter runs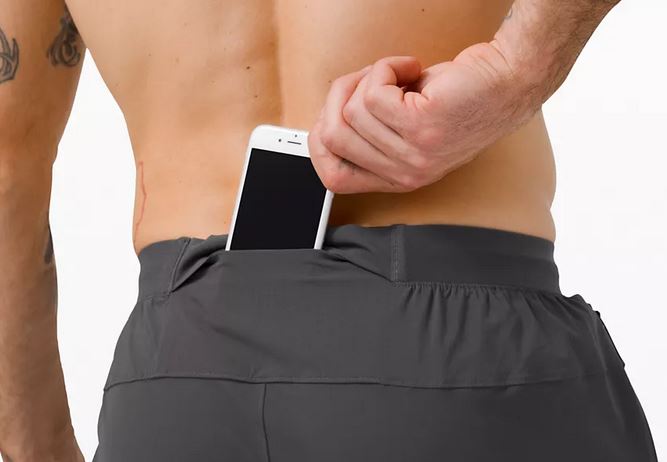 Korsa Workout Pants ($80)
These came recommended by a reader whose husband also likes them for biking. That got my attention since David prefers biking and I know will be back at it as the broken hand recovers.
Very lightweight
Loose fit
Zippered pockets – but not for phone
Could easily wear a tighter base layer under these (see below)
Asics Men's Thermopolis Jogger ($85)
For those who just truly hate tights, these are a solid option. David has run in a similar style from Under Armour with no issues. I don't understand how there is no chafing, but there's not.
Loose jogger style
Hand pockets – no phone phone pocket
90% polyester they are going to dry fast and provide some warmth, but are not your cold weather pants
I would be more inclined to give you a subtle nudge towards the Lite-Show Winter Tight. It runs a little large, so you can get tights that aren't quite so tight and with a better lining to really ensure you stay dry and warm as the temps drop!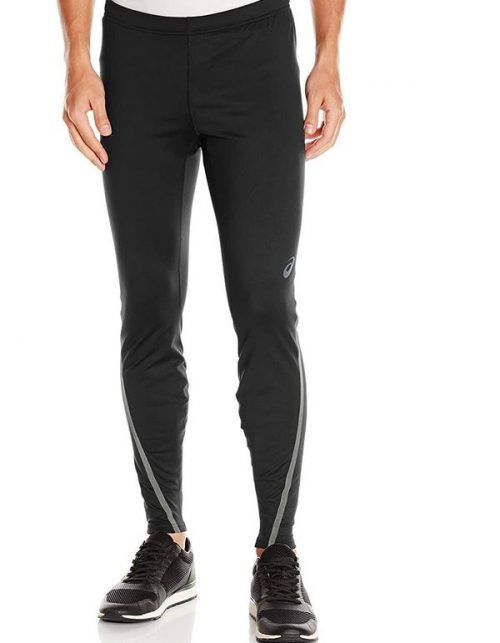 Men's Running Tights Winter
Men's running pants simply get a little tighter when we start talking winter! These are for those days where you want a pair that has some fleece lining or wool to really keep you toasty. Checkout the final base layer option if you would prefer wearing something under a looser fit.
I'm told these are mostly appreciated for the boys and the bum. Yes, we had some amusing conversations during this whole testing process.
Brooks Momentum Thermal Tight ($95)
These got high marks from a few male runners and were quickly added to our testing list!
DriFit
iPhone pocket
Snugger fit, but still not tight like compression pants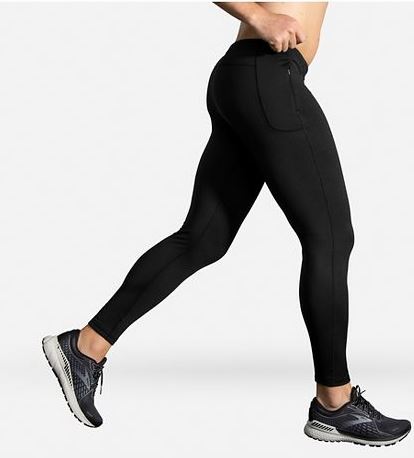 New Balance Heat Impact Tight ($90)
Another one that got some rave reviews and fit our criteria, so it's on the way for testing.
Fitted
Fleece lined is great for warmth while wicking away sweat
Zippered at calves
Side pocket for phone
Under Armour Packaged Base Layer 3.0 ($70)
UA really does a great job overall with apparel. I've had success finding things that fit well, as has David over the years. So for the price point, I always find them to be a pretty good option.
Designed to wear under your looser pants for cold runs
Soft and comfy, they aren't polyester slick material or like compression tights
Wicking as any base layer should be
Men's Compression Tights
While I have given David some of my favorite brands, he doesn't care for the super tight feel of compression gear. However, many of the guys I asked said they love them and since I think compression pant benefits are worth it…here are two options!
CW-X Stabilyx ($85)
These are my top recommendation for anyone with knee or IT Band issues. The way the webbing it done it provides extra support to both areas. I've not only had great luck with it, but heard from many of you who tried them and agreed they were winners.
Thick material, but not lined
Compression pant
Great for long runs to provide that extra support
Only a pocket for a key
2XU Compression Tight ($104)
These are more focused on the quads and calves than the previous pair. I tend to wear this style more during recovery, but they are a great running pant.
Lightweight
Highest compression around quads and calves
Wicking and easy to have full range of motion
No pockets, runs true to size
Is it ok for guys to wear running tights?
YES. I think this comes down to your own comfort levels. Men run sans shirt all summer long, so I'm not sure why we care if they pull on some tights to stay warm in the winter.
Tights are designed to provide support to all kinds of areas, including your leg muscles. It's why people like compression gear.
Tights are designed to protect you from the elements. Keeping you warmer or dryer so you don't skip runs.
Running in shorts just to avoid tights does not make you more manly. I checked. It doesn't.
Why do guys wear shorts over running tights?
Personal preference. Why do some women run in a sports bra and others (like me) pretty much never do.
In the winter, they may also find that added layer around the nether regions provides additional warmth. Just like we find our fingers and toes get cold on runs because blood is focused in our core…well gentlemen that's why you get cold too.
Men's Running Tights with Pockets
As ladies know finding leggings with phone pockets that will stay up takes a little work. I noted in the pants above which one's specifically have pockets that will work for a phone and not just your hands or keys.
Any other gear you've got questions on? Let me know!
A few other recent tests:
Other ways to connect with Amanda
Instagram Daily Fun: RunToTheFinish
Facebook Community Chatter: RunToTheFinish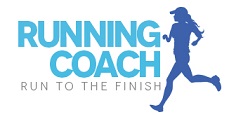 Sign Up to Receive a Weekly Newsletter with Top Running Tips and Laughs