For years now I've gotten a monthly massage because I found it was extremely beneficial in maintaining an IT Band that was happy, hips that were aligned and it simply reduced my overall stress levels which improved recovery. Could an at home massage gun for runners give me some of those benefits??
With things changing and always looking to spend money wisely, I started to wonder if these massage guns are really worth it?
Could it serve as a replacement? Is it better than a foam roller for working the fascia?
🤑Not interested in reading the whole post, then here's a hot tip this AFFORDABLE massage gun is just as good (while still being high quality enough to last), if you decide one is necessary.
What is a massage gun?
Massage guns, referred to more technically as percussion massagers, percussive therapy or vibration therapy, are a step up from at home tools we've long had access to, like deep tissue massagers that use a more circular motion.
The massage gun is a handheld device shaped a bit like a tool you'd expect to see on a construction project. In fact the "gun" name comes from being shaped like a nail gun and with the same idea that the massage tool itself pushes outward.
Utilizes depth, speed and force to hit muscles that deep tissue massage would with less pain
Allows you to work in deeper than you can with a foam roller
The repeated force provides vibration therapy
Targeted for use on small areas
What are the benefits of a massage gun?
Unfortunately there aren't yet a ton of studies to prove out the claims being made, which goes to show a lot of it could be in our heads like using compression tights for running. Don't care, I'll take all the headspace wins I can get.
One small study did show that using vibration and/or massage helped with muscle soreness. And a new larger review of many studies supports that data!
muscle relaxation as a result of the deep vibration
increased relaxation could promote better sleep
increased blood flow to that area when finished which can help with muscle recovery
could improve flexibility while the muscles are in a state of distraction
interrupts pain signals to the brain (discovered this when writing about vibration foam rollers)
potential increase in muscle strength (study)
Who should avoid massage guns?
But let's not forget that for some people a massage gun may not be the best choice:
no if on blood thinners
no if you want to use it right on your neck
no if you bruise easily
no if you have limited sensation (i.e. diabetes foot issues)
What do experts think about the massage gun?
During my last sports chiropractor visit, I asked for his opinion.
"Do you think people should be using these at home??"
Dr Spitz had a couple of really smart things to say:
I think it's really exciting when people first get it and then many sort of put it to the side and stop using it (touch

é

my friend touch

é

on every gizmo we lust after)
People should NOT just keep going over and over a sore area (that's a great way to increase inflammation, just like why you don't foam roll your IT Band)
It's really great for working in to a glute while also using movement of the leg
Do you need a massage gun?
If asked, this wouldn't be the first tool that I believe every runner needs. Probably because I'm stingy with where I spend money and I don't want to throw yours around either. Am I enjoying having one, for sure. But they've been out for years and I survived without one too.
I'd start with a great pair of compression tights, the right running shoes, excellent socks…and then I'd ask if you're doing a dynamic warm up and strengthening your hips.
Once you've said yes, I'm doing those and wanting to treat myself or take things to the next level then I'm down.
This isn't a cure all or a magic bullet, but if it excites you to train or helps you feel like recovery is better then GO FOR IT.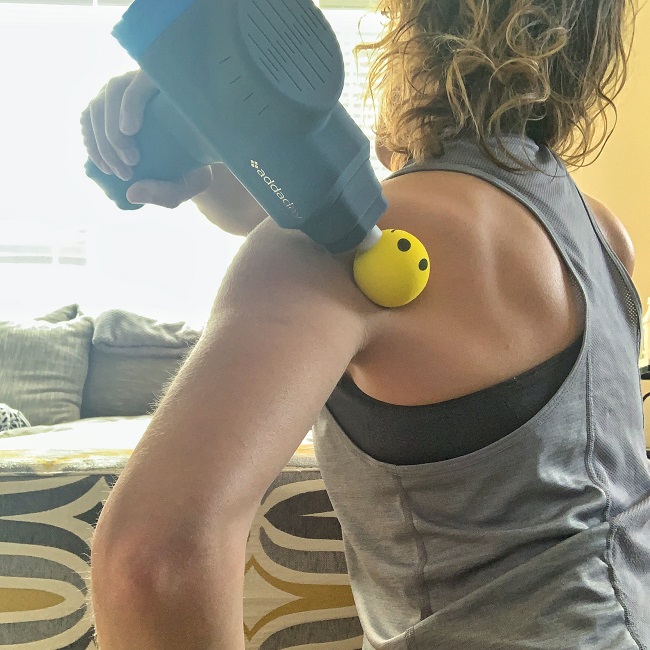 Best Affordable Massage Guns
Why are massage guns so expensive? There's a lot of technology involved, but I can't give you a huge reason why the $600 massage gun is massively better than the one I'm using and is on sale for less than $200.
My chiropractor does have the $600 Theragun and likes the massage head on it because it doesn't cause pain if you end up over a bony area, which is easy to do around your shoulders and chest.
What to look for in a massage gun
Amplitude – how deep it goes
Speeds – how much you can control the intensity
Nice to have multiple tool heads to hit muscles differently
Easy to hold
Good battery life (I'm definitely one who forgets to charge things)
A warranty because it better last awhile if you're using it in place of a monthly massage
✅Athphy Massage Gun – (best low cost $100)
For a low priced gun it has features that many others don't like a memory of your massage sessions and who among you runners doesn't love even more data!
Designed to be quite
Contains all the massage heads and a carrying case
Long battery life, so you won't need to charge it frequently and can easily take it with you knowing it will stay charged
One of the few with a touch screen (could be an issue if that stopped working for some reason)
Great tips like how to not OVER massage
Medcursour Massage Gun ($70)
This is the lowest priced massage gun on the list, but with a ton of really fantastic reviews. It has all the massage heads, multiple speeds and some new options for the type of massage.
I have not tested out this model, but am including it based on reviews and price point as a good option for under $120. A lot of what you are sacrificing is how loud it is and the steel massage heads.
Tolco Massage Gun ($110)
It has over 11,000 reviews and is still at 4.5 stars to me that says a lot because people are hard to please!
Right now there's a discount code, which brings this one back under $100. Wohoo.
20 speeds
tons of massage heads for different needs
easy to choose your power level
Best Mid-Range Massage Guns
Sometimes you do get what you pay for and they may indeed wind up having a longer battery life or you just really like some of the features or the brand. That's cool, rock on with your bad self.
Hydragun – ($250 with my discount )
I will admit this is the highest priced gun on the list, but as I quickly learned that's because it comes with some features that you really won't find in the others.
One of the only massagers to come with steel heads
As I quickly learned this GLIDE over your clothing where the rubber balls often get caught or bunch up
It's truly QUIET. Like I can use it in the same room while my husband watches TV quiet
Comes with plugins so it works in multiple countries, carrying case and all the massage heads
Multiple speeds and a light that actually helps alert you when you are pushing too hard! (remember massage guns float over you, not push deep)
Handle is really easy to hold and it has a great warranty (which I want at these price points)
RUNTOTHEFINISH50 will get you $50 off.
Hyperice Hyper Volt – ($299)
My Ragnar team was obsessed with this particular model, passing it back and forth between vans when we traded off legs.
It's one of the more popular models on the market. It does have fewer speed options than others, but reports having a longer battery life. It's also listed as one of the quietest massage guns.
BUTTTTTT again, I personally have had just as much luck with the cheaper models.
How do you use a massage gun?
While I love having my husband run the massage gun over my back, generally you'll be using it on yourself and that's ideal to ensure you aren't using too much pressure.
This isn't a deeper is better scenario. Not the sports massage, where you're gripping the table as they work through that calf knot kind of thing.
Step 1, you need to relax. If you're tense because you know an area is tender you're making it harder for the tool to work and it's likely going to hurt more. Start with a very light pressure and ease in to the area.
Start on the lowest speed an increase as needed
You're using a light touch and allowing the vibration to help release the knot
You'll only be holding it on a given area for a few seconds, as you continue to slowly move it around
Do NOT overuse it
DO NOT use it on injured areas, strains, sprains, etc.
You could use it a few times throughout the day if desired with at least a couple hours between
How long do you use a massage gun?
This is not like getting an hour massage, that's overkill on your muscles.
Muscle Activation- 30 Seconds
Pre-workout you could utilize it on areas like your glutes and quads to hep wake up the muscles, this is a short session.
Muscle Re-Activation- 15 Seconds
Some have also recommended using it during a workout when you're beginning to fatigue, possibly because the vibration creates the muscle distraction to lessen pain signals. This is more common in strength training sessions where people are also looking for those gains noted above.
Relaxation- 2 Minutes
Once you've fully cooled down from a workout or are getting ready for bed, you can use the massage gun on different areas for up to 2 minutes. Again moving the gun around consistently, it's said to promote relaxation and will now be working in to those tight areas to release fascia.
How to use massage gun heads?
I admit this was one of the first things I was curious about…why so many and what do they do? Not wanting to injure myself by simply testing, I started to research first!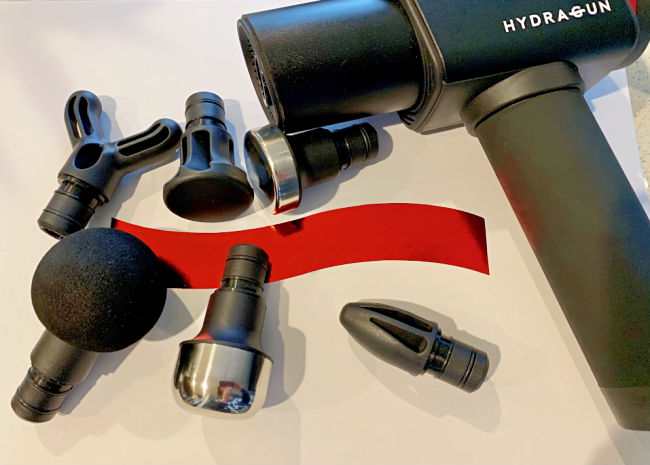 Large Foam Ball
This is the most used head as it can really go anywhere on the body and the softer foam will be less intense on places like your inner thighs which often get skipped with foam rolling or tend calf muscles.
Medium Ball
This may be made of something a little firmer than the foam ball depending on the model, but is also suitable for use on most of the body and may simply provide a little more intense muscle work than the larger head.
Flat Head
Might be more ideal for most of our larger sore muscles because it spreads out the impact. I like both the flat head and the ball more MOST of my massage time.
Bullet
This smaller more intense tool is designed for specific trigger points. Also often used on the soles of the feet. It's sometimes mentioned for use around joints, but I don't think for the most part we want to be in anyway sending an impact in to the bone.
Fork Head
This split head attachment allows you to target areas such as the spine or neck, without hitting the bone. But is also often used on the Achilles, or in an area where you want a dual hit to help release the muscles.
Steel Heads
As I learned with the Hydragun these are actually INCREDIBLE. Especially because I've been hitting my glutes and low back hard since the ultramarathon and always find my shirt getting snagged up…not with this.
I got in to running because it was cheap. I could run in my cotton t-shirt, my mesh shorts and the shoes I had laying around…I quickly learned at least that last piece was a very bad choice.
But truly, I never could have imagined what I'd spend on a GPS watch and never even pondered something like massage gun.
Yet now, I realize that the right tools are key to keeping me running injury free.
Which means keeping me sane.
Looking for more reviews to find the best things for your run?
Checkout our full page of running gear reviews and guides to save you time searching and money! I share what's worked for me and fellow runners, along with what wasn't worth the price tag.
A few common requests:
Have you tried a massage gun?
More questions, let me know!
Other ways to connect with Amanda
Instagram Daily Fun: RunToTheFinish
Facebook Community Chatter: RunToTheFinish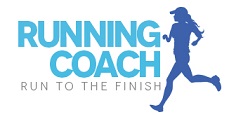 Sign Up to Receive a Weekly Newsletter with Top Running Tips and Laughs