Since I started wearing HOKA's many of you have asked "what do you think?" or "I've been considering them, should I?" "Can you give me a Hoka running shoes review??"
Having run in different models since 2012, I have plenty to say!
Each year, I test out new models and put in enough miles to have solid feedback on feel, fit and whether I'll be shelling out money for the new version.
Originally this was a straight review of the Hoka Clifton because that was really all they had. But as they've expanded over the years, so have the models I've tested. Here I hope to help breakdown the differences and help you find the right option.
Hoka Running Shoes Review
Switching running shoes is a TERRIFYING prospect, but I was in need of a change. My knees had been aching for months and my chiropractor had started to point out how my foot was rolling in pretty hard on my old shoes.
Sooo the idea of some extra cushion and a little more support sounded like a good thing, but would I really like them?
They were so big!! They were so different!
Maximal running shoes vs minimal is a whole topic that required a specific post, so read that to figure out if it's right for you.
Here we're exploring some of the different models of Hoka running shoes:
Hoka Clifton (neutral cushion)
Hoka Bondi (neutral plush cushion)
Hoka Speedgoat (neutral trail)
Hoka BondiX (neutral plush cushion with carbon fiber)
Hoka Clifton Review
Like most runners upon seeing the size of the Clifton I assumed it would be heavy or clunky.
In fact, they were so light I was absolutely shocked.
And when I tried to go back to my old shoes they felt like rocks. I've now run in the Hoka Clifton 1, 2, 5, 7 and 8.
The Clifton Edge with the larger heel did nothing for me and the shoe simply didn't feel as cushioned. The 2 went a little off track as did 7, but 5 and 8 are winners again.
Checkout the newest Clifton >>
USAGE
Thus far I have worn the different models for everything from a speed day to a half marathon. In truth, they aren't the best choice for speed, but they felt nice.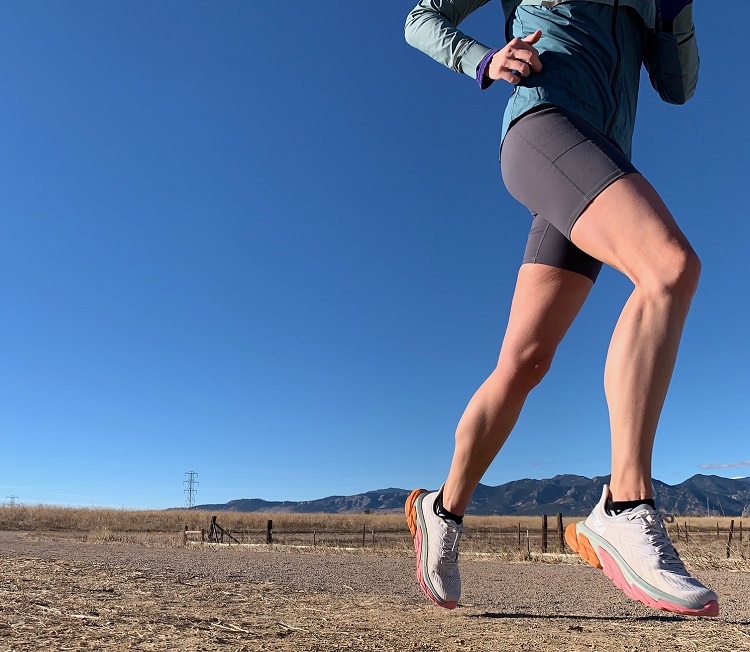 Stability
While I DO NOT recommend stability shoes for most runners, the Hoka is designed to provide some base level stability thanks to the wider platform. This is a great way to get the benefits without changing your stride or hiding the fact that you have weak muscles.
I would consider the Clifton a Hoka Neutral Running Shoe.
Maximal shoe
I did separate detailed post comparing maximal and minimal, but for now here is what HOKA has to say about their shoes:
"maximum cushioning material is designed for excellent shock absorption and an inherently stable ride."
The Clifton is not their softest shoe (that's the Bondi), but it is absolutely a cushioned shoe. And as we get older that additional cushion might just feel better because we actually lose from the fat pads in our feet.
Fit
Fit is the one thing that has bothered a little in early models as I have a more narrow foot and so sometimes my foot has felt a bit like it was too small for the shoe. However, I have read many other reviews that state it's a very average fit, so this you'll need to test out for yourself.
I wear the same size 11 as in all other running shoes
Fits a wider foot
Toebox is not as wide as an Altra, but wider than many other brands
The Clifton 8 doesn't feel as big due to the volume of cushion around the heel and tongue.
Weight/Heel Drop (women's):
Clifton 8 – 7.2oz, 5mm
If you've been wearing a shoe with a larger heel drop you may notice more of a difference.
My personal preference is towards less of a heel drop as I think it gets our foot in better alignment, it also mimics the idea of a minimal shoe, but with the cushion!

Clifton original in pink and Clifton 2 in purple.
Replacement
The standard saying is replace your shoes every 500 miles and these shoes are the same.
Whatever you have found to be your sweet spot in the past will be roughly the same here. I.e. larger runners, big men, etc often find they need to replace shoes quicker due to breakdown, others find that more treadmill runs means maybe their shoes are good for 800 miles.
Hoka Bondi Review
I swear I had tried this shoe previously without much love, but this time the first run and I knew we were going to be long term buddies.
It goes to shoe sometimes a shoe update is for the better.
Maybe it's because they went back to their 2011 model and started from there (noting that the original Clifton was also my fav). I've now enjoyed the last couple of models of the Bondi.
This is a PLUSH cushioned shoe, which has both pro's and con's for the runner.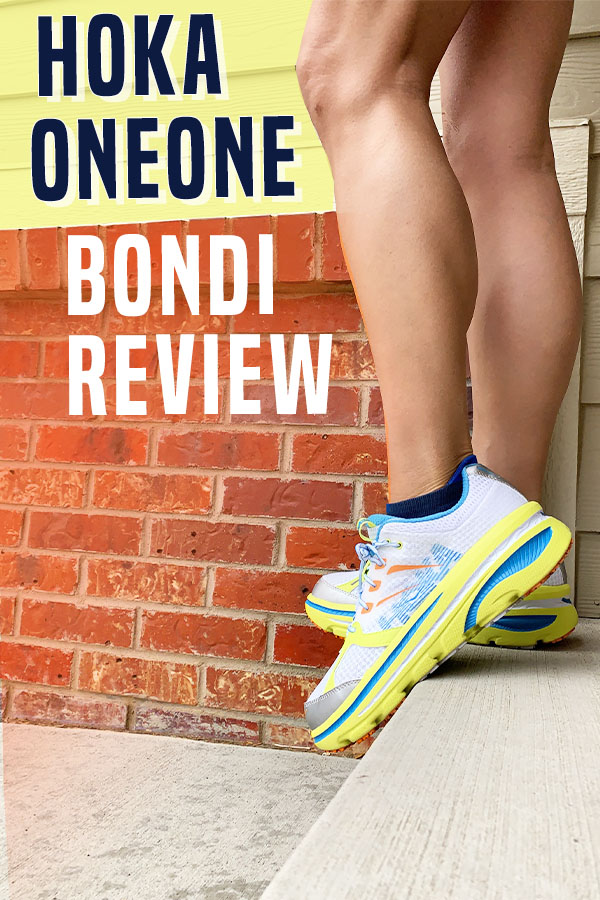 Another instance where looks are deceiving. They are not a heavy shoe.
A super cushioned shoe FEELS amazing. But runners need to be aware that on very long runs with a super plush shoe, it's not uncommon to start having lower back pain while running.
This is because we start to sink a little in to the shoe.
I LOVE these shoes for a recovery run.
Fit
These shoes felt fabulous thanks to the huge amount of cushion and yet not too heavy for a nice long run either.
While they're also listed as a neutral shoe, I was thrilled to see my foot didn't drop in one bit when I put them on which is common in other shoes. Another example of how their shoes have some natural support due to the bigger platform.
True to size
Very similar to Clifton, just the additional cushioning
Good room in the toebox
Heel drop
Bondi 7 – 8.90 oz and 4 mm
Making it a slightly heavier shoe than the Clifton, but again totally fine for those easy days.
Lifespan will be same as the Clifton, though if the cushion starts to breakdown you will notice it more quickly in your form.
Hoka BondiX
Ok, let's talk about the newest thing they've released…a cushioned shoe with a carbon fiber plate?!
I couldn't wrap my head around the idea of the two combined, but then I went for a run.
9.00 oz, 5mm drop make it not their lightest shoe and yet somehow one of the fastest!
You don't feel the rocker, so much as you notice it in your pace.
If I had a race with a slight downhill and popped these one, I'd say almost guaranteed PR.
This is the fast shoe for the everyday runner.
Carbon Fiber shoes have a shorter lifespan and these are no exception.
"We asked ourselves why every carbon-plated shoe on the market had to be created with an eye on only the elite runner. Everyone deserves to fly and everyone can level up.
What better way to pose the idea than on a super plush HOKA platform with forgiving geometry plus a carbon plate? The Bondi X was born!"
Snag a pair of the BondiX here >>
Hoka Clifton vs Bondi
Trying to decide between these two models? There are a a few big ways in which they are different, so it's going to depend on what you prefer in a shoe.
Both are a neutral running shoe
Both are similar in weight and heel drop
The Bondi is a MUCH plusher feel. You won't question if it's a cushioned shoe.
Having run in both, I like both. As noted above, I use them differently.
Bondi is great for recovery runs or when you are starting to run and the joints need a little extra cushion as they adjust.
Clifton is great for long runs, easy runs.
BondiX is a shockingly good shoe for those long race days!
Hoka CarbonX vs BondiX
If you're looking for a carbon fiber running shoe and you love your Hoka running shoes then of course the next question is do I want the Clifton or the Bondi?!
While the CarbonX is NOT a Clifton it's much closer in feel than the Bondi.
CarbonX 2 is going to be less cushioned than even a Clifton
Both shoes are designed for race day or a serious speed workout
Both are a neutral running shoe
BondiX maintains the cushion you expect of a Bondi
CarbonX 2 is 7 oz, BondiX is 9oz
Both shoes are 5mm heel drop
Bondi has more padding around the heel
Checkout the current CarbonX2 pricing >>
Can't complain about either shoe!
Hoka Speed Goat Review
After asking for opinions on the best trail running shoe, this one came up so much that I decided I needed a pair.
The masses were right, I love it.
The Speedgoat has all of the cushion that I have come to love from my Hoka Cliftons and has all the grip and varied lugs I need to maintain traction on the trails.
You can tell mine are well loved due to the layer of dirt and grime covering every inch of the shoe. I know many ultra runners who will use them on any terrain, while I'm probably looking for something with a tad more grip when I get to really technical stuff.
Weight/Heel Drop
9.2 oz with a 4mm drop — perfect low profile shoe
Usage
I've now run easy trails, technical trails and up to 18 miles in the Speedgoat.
Loving how this neutral shoe feels on my foot and with a slightly wider toe box than many it's meant no issues with blisters from downhill running.
Checkout current colors and pricing here >>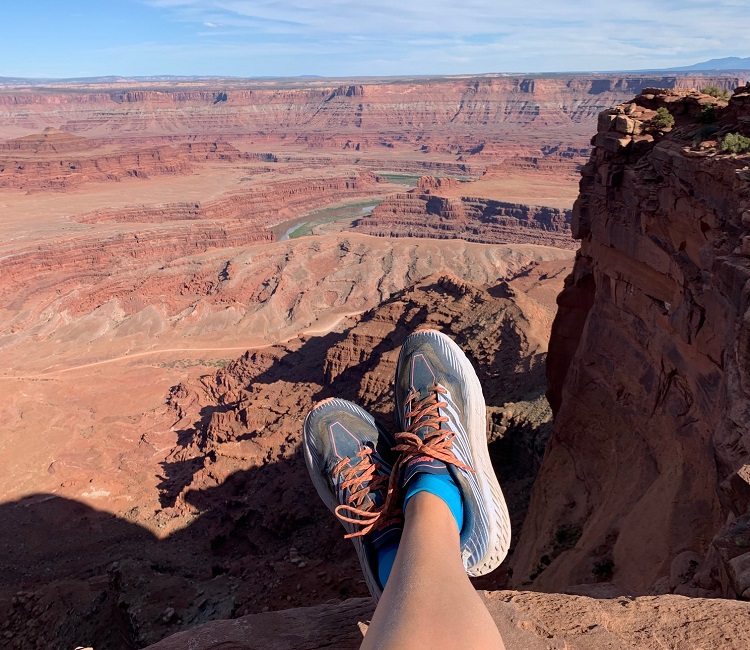 Hoka Casual Shoes
Hupana I tested in their more casual slip on shoe and it's absolutely love at first slip!!
In fact, David wanted a pair and now we both sport them together…aren't we cute.
These are nice enough to wear on those long walks we take on vacation and yet I also know I could probably run a couple miles in them, which just makes me happy! And in fact, that's exactly the need they were trying to fill with this shoe!
Wondering how HOKA stacks up against other traditional running shoes?
Checkout these match ups:
Looking for more reviews to find the best things for your run?
Checkout our full page of my must have running gear reviews and guides to save you time searching and money! I share what's worked for me and fellow runners, along with what wasn't worth the price tag.
A few common requests:
Other ways to connect with Amanda
Instagram Daily Fun: RunToTheFinish
Facebook Community Chatter: RunToTheFinish
Get more running tips: Pinterest
This is not a sponsored post, though I have received Hoka's free over the years for testing.